Make better music.
psymmetrixDelay
1.3.6
psymmetrixDelay is a tempo synced delay, featuring LFO controllable pan & pre/post feedback filter stages, with buffer locking for extreme stutter effects.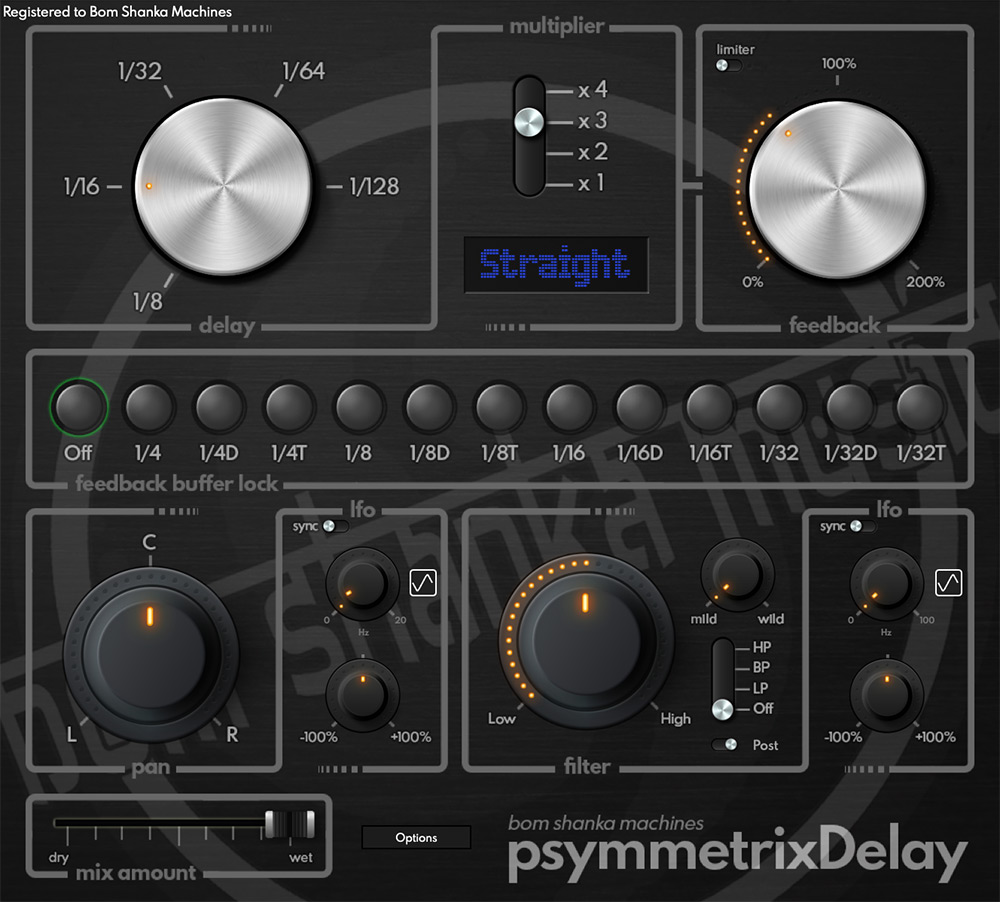 1/128 to 1/8 note tempo synced delay
1 to 4 times delay time multiplier with triplet and dotted options

Insane upper feedback level, with optional brickwall limiter

Feedback buffer lock for outlandish stutter effects
Multimode resonant filter switchable pre or post feedback with tempo syncable LFO
Mono feedback loop with adjustable pan position and

tempo syncable

LFO

Mix amount control for use as in insert or send effect

Native Apple Silicon (M1 or better) support
Only £39.99 / €49.99 / $49.99 for a perpetual license on as many machines as you own, plus free updates for life (including major versions).
By clicking Buy Now, you will continue to the FastSpring checkout page where payment will be taken, and your order fulfilled by FastSpring, our trusted reseller, and Merchant of Record. PLEASE NOTE: All sales are final, refunds can not be issued. Please try the demo first to confirm that you wish to purchase.
Downloads & System requirements
Windows
Download installer
Windows 7 or greater
32 or 64 bit compatible
3gHz or faster CPU
Minimum 4gb RAM
VST 2 or 3 compatible host

macOs
Download installer
macOS 10.9 or greater
64 bit version only
3gHz or faster Intel or ARM CPU
Minimum 4gb RAM

VST 2/3 or Audio Unit compatible host
Experimental Linux support
Download VST2 build
Unfortunately due to the nature of Linux audio and our small size we are unable to offer anything beyond rudimentary support for the Linux build.
Demo
You may use psymmetrixDelay unrestricted for about 3 weeks after which it will nag you to purchase a license but otherwise work unrestricted.

1.2.2

Initial public release.

1.2.4

Added Installation and User guide, improved Windows graphic quality and improved preset handling.

1.2.5

Apple Notarised installer and minor bug fix.

1.2.6

Added 64 bit processing for hosts that support it and removed libcurl dependency for Linux.

1.3.3

Added tempo sync and waveform choices to LFOs.

1.3.4

Updated license system.

1.3.5

Improved macOS Monterey support and stability.

1.3.6

Fixed VST2 not passing validation in some hosts and removed Rosetta requirement for macOS installer on ARM machines.