Make better music.
occularScope
1.3.1
occularScope is a bar or beat synchronised oscilloscope with side chain input.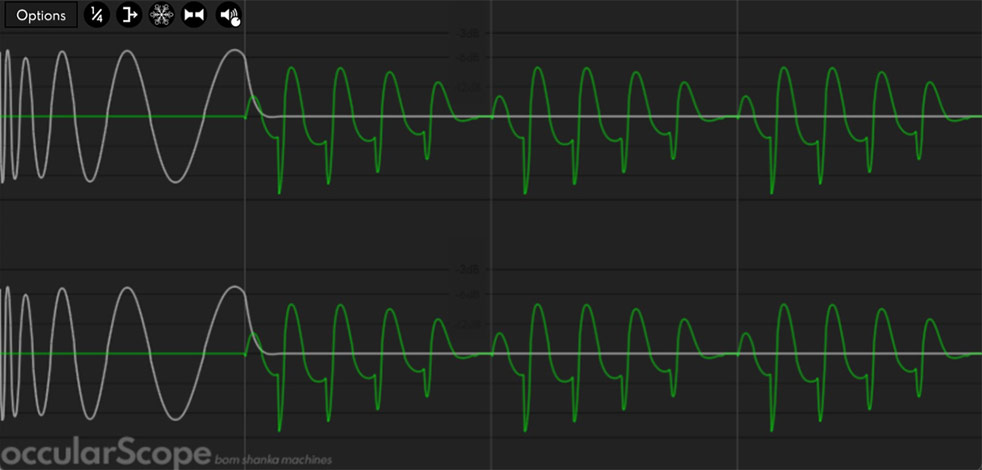 View either a single beat or bar synchronised to your DAW
Line or filled waveform view
Can show side chain input overlaid or added to primary input
Freeze button

Stereo/Mono input display modes

Auto or manual gain control, either linked or per input



Adjustable delay compensation for manually correcting waveform offset
Fully scalable user interface
Dark and Light themes and more (or completely customise your own colour scheme)
Native Apple Silicon (M1 or better) support
System requirements
Windows
Windows 7 or greater
32 or 64 bit compatible
3GHz or faster CPU

Minimum 4gb RAM
32mb free GPU RAM
VST 2 or 3 compatible host

macOs
macOS 10.11 or greater
64 bit version only
3GHz or faster Intel or ARM CPU

Minimum 4gb RAM
32mb free GPU RAM

VST 2/3 or Audio Unit compatible host
Experimental Linux support
Unfortunately due to the nature of Linux audio and our small size we are unable to offer anything beyond rudimentary support for the Linux build.
Download
To download occularScope, visit your User Account page, where the links will be available if you are actively subscribed to our mailing list.
If you don't already have an account, then you can sign up here.

In memory of Finbar "Occular" Dodd
Sadly in 2018 we lost our great friend Finbar, aka Occular, to complications of his Type I diabetes, this plugin is offered for free so in place of having to buy a license for this software please consider donating to a charity that funds research into Type I diabetes.
1.0.2

Initial public release.

1.0.3

Fixed bug when using sample rate other than 44.1kHz

1.1.2

Improved UI performance. Added delay compensation controls to manually offset waveform position.

1.2.0

Fixed plugin size being ignored when re-opening projects in DAW.

1.2.1

Increased maximum delay compensation to 50k samples, fixed missing Linux build.

1.3.0

Added gain control and improved stability, fixed macOS installer to no longer need Rosetta installed to be able to function.

1.3.1

Added stereo/mono display mode switch. Fixed PDC & gain settings not being stored. Fixed a crash that could occur when using the gain button.