Make better music.
chrisGlitch
1.1.3
chrisGlitch is a glitch machine that can either add subtle variation to your patterns or completely mangle them beyond recognition.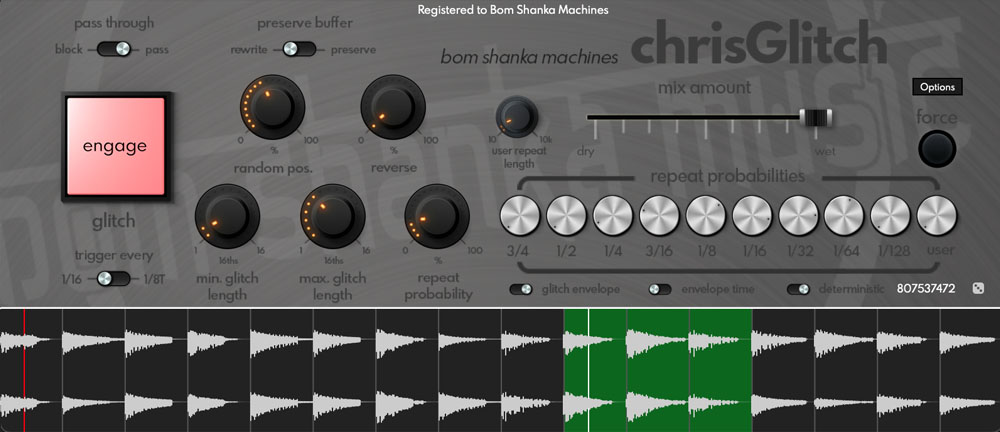 One to sixteen 16ths random glitch slice lengths
Minimum glitch length parameter
Sixteenth Note or Eighth Note Triplet timing option
Random playback slice position probability
Reverse slice playback probability
Overall repeat slice probability (and force control) with control over individual repeat length probabilities
User definable slice repeat length
Envelope to help with clicks and pops

Endlessly chaotic or deterministic random number generation



Block or pass through the incoming audio when disengaged
Retain buffer option
Visualisation of playback buffer and current playback slice
Native Apple Silicon (M1 or better) support
Only £39.99 / €49.99 / $49.99 for a perpetual license on as many machines as you own, plus free updates for life (including major versions).
By clicking Buy Now, you will continue to the FastSpring checkout page where payment will be taken, and your order fulfilled by FastSpring, our trusted reseller, and Merchant of Record.  PLEASE NOTE:  All sales are final, refunds can not be issued. Please try the demo first to confirm that you wish to purchase.
Downloads & System requirements
Windows
Download installer
Windows 7 or greater
32 or 64 bit compatible
3gHz or faster CPU

Minimum 4gb RAM
VST 2 or 3 compatible host

macOs
Download installer
macOS 10.11 or greater
64 bit version only
3gHz or faster Intel or ARM CPU
Minimum 4gb RAM

VST 2/3 or Audio Unit compatible host
Experimental Linux support
Download VST2 build
Unfortunately due to the nature of Linux audio and our small size we are unable to offer anything beyond rudimentary support for the Linux build.
Demo
You may use chrisGlitch unrestricted for about 3 weeks after which it will nag you to purchase a license but otherwise work unrestricted.

1.0.15

Initial public release.

1.0.16

Fixed potential volume overloads that could occur in rare circumstances.

1.0.17

Fixed graphical glitch in Windows & Linux when hiding waveform.

1.0.18

Fixed graphical glitch that could occur when hiding waveform and then changing UI size.

1.0.19

Updated license system.

1.0.20

Fixed requirement for Rosetta to be installed when installing on Apple Silicon and possible crash in rare circumstances.

1.0.21

Improved macOS Monterey support and stability.

1.0.22

Fixed VST2 not passing validation in certain hosts.

1.1.2

Added minimum glitch length parameter, improved visualisation of playback slice, improved stability, added random preset name generator.

1.1.3

Added "deterministic" parameter and seed.